Yemeni-Style Chicken Salad
CarolAT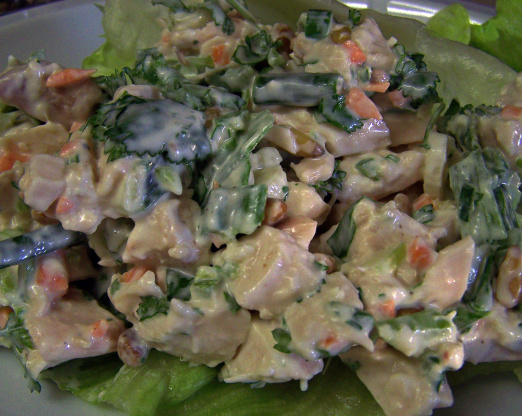 Originally from Chicago Tribune. Something different yet not bizarre.

Made this last night from leftover roast chicken and it's purely delicious. I just made two servings as that was the amount of chicken I had. Had to sub in hot pepper flaked for the chili which I can't get here. The seasoning made this a grand switch off from the usual chicken salad. I want to try it with some added chicken broth for thinning to be served over rice or couscous.
Place chicken in sauce pan and cover with water. Bring to a boil then simmer 8 to 10 minutes till done. (You could toast and cool pine nuts at this time too.).
While chicken is cooling, mix mayonnaise and yogurt in medium bowl.
Add garlic, chilies, pint nuts, green onions, celery, carrots, cumin, cilantro and parsley. Toss and set aside.
Coarsely chop cooled chicken and add to mix.
Season with salt and pepper.