Yellow Squash , Eggplant and Feta Casserole
Rita1652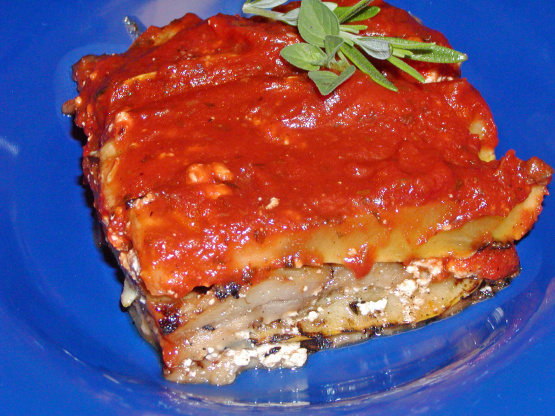 This quick and easy side or main one dish meal is a no baking in the oven so this is great for those Hot Summer days! Marinated & Grilled gives the Squash and Eggplant a one level of flavor, then layered with feta cheese topped with your favorite tomato sauce giving it more levels of flavors. Heat through in a micorwave oven and walla!

Top Review by Momto3
I made some changes based on what I had in the house... fresh grated parmasean instead of feta and season salt instead of the herbs. This dish was great and I will be making it again this weekemd with the feta. My version was basically grilled eggplant and squash parm but the whole family loved it.
Slice lenghtwise the squash and eggplant into 8 slices each.
In a large storage bag place oil, lemon, garlic, herbs, pepper, squash and eggplant. Marinate for 1 hour in refrigerator.
Grill over hot coals for 5 minutes turning half way through.
Layer grilled squash, eggplant and cheese in a glass 8x8 dish top with sauce and microwave for 3 minutes.
Enjoy!