RouxBDoo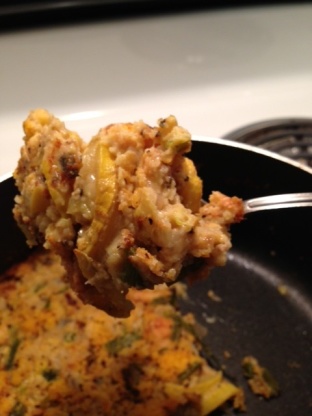 Cornbread dressing combined with cooked squash for a wonderful side to your chicken or turkey. Great for the Holidays.
2

cups yellow squash (sliced thin or cubed)

2

cups cornbread (diced)

1

(10 ounce) can cream of chicken soup
1⁄2 onion (diced)
1⁄2 teaspoon salt
1⁄4 teaspoon pepper
1⁄2 teaspoon rubbed sage

1

tablespoon butter
1⁄4 cup green onion (sliced thin)

1

tablespoon garlic clove (minced)
PreHeat Oven to 375 degrees.
Place your diced or sliced yellow squash in a pot with the onions, green onions, garlic and just cover them with water. Bring to a boil and turn down a bit and cook til the yellow squach is nearly done and has softened.
Carefully pour the water off reserving a bit (probably about 1/2 a cup) of the water.
Add butter and spices.
Mix in the cornbread, spices, soup mix, with the squash/veggie mixture, and pour into a glass casserole dish, or similar oven proof vessel.
Place in oven for 45 mins uncovered. It's just that easy.
Warning, do not use a sweet cornbread with this recipe.