chia2160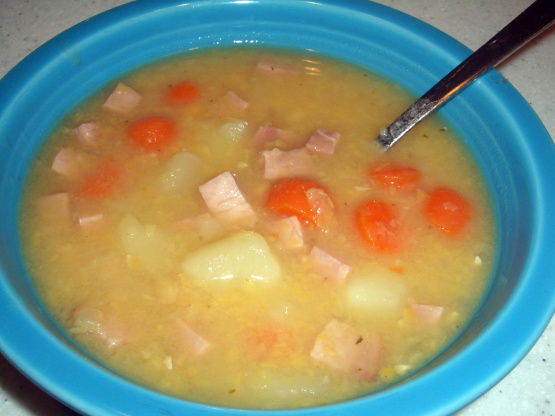 This recipe is from "Discover The Pulse Potential" cookbook. I usually double this recipe as it is low fat, filling, tastes good, and lasts all weekend so I can do other things besides cook. I use low fat ham.

Oh wow this was good. I douvled the recipe and quadrupled the ham (turkey ham) because I had two cups in a bag. I used beef bouillon amd a few less carrots then called for. This was flavorful and filling and wonderful with some bread and oranges. Thanks!
In a large saucepan, combine peas, water, bouillon, onion, carrot, potato, ham, and bay leaf.
Bring to boil; reduce heat, cover and simmer, stirring occasionally, 45-60 min, or until peas are tender and soup has thickened.
Remove bay leaf.
Just before serving add pepper.