Chickee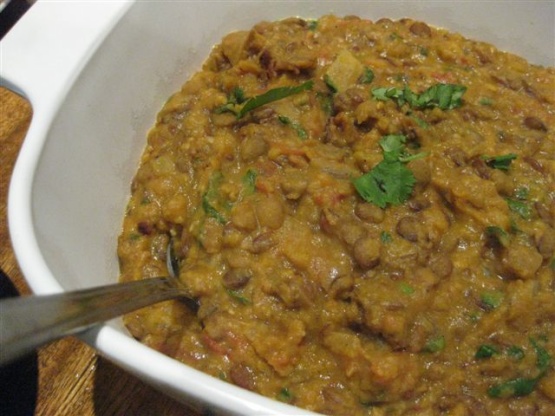 "Dal" in Indian cooking refers to porridge like dishes made from dried legumes, usually split peas or lentils. Dal is often served in a thinned state as a soup, but equally often it will be a thick, hearty side dish. This is a thick dal, comprehensive and highly spiced enough to be the focus of a meal. From one of the Moosewood cookbooks. Prep time includes 2 hours for cooking dried split peas. Serve with rice and raita.

I made this as part of our dinner last night. I did use oil instead of butter. This dal was really lacking in taste. I added 1/2 a tsp. of black pepper, 1 whole tsp.(heaped) of red chilli powder, 1 more tsp. of salt and the juice of 1 lemon. It was much better then. I served it with steaming hot white rice topped with a dollop of low-fat plain yoghurt.
Place split peas in a saucepan with 5 cups of water.
Cover and bring to boil.
Lower heat and simmer very slowly, partially covered until soft (2-2/12 hours) Melt butter in large skillet.
Add crushed garlic, cumin, mustard seeds, turmeric, and cinnamon.
Cook, stirring, over medium heat for 3 minutes.
Add cooked peas and stir until everything is well mixed.
Keep stirring and cooking as you gradually add an additional 1/2 cup water.
You want a creamy consistency but not soup.
Add salt, black and red peppers.
Cook and stir another 5 minutes over low heat.
Serve hot.