Yellow Rice With Sesame Seeds
Redsie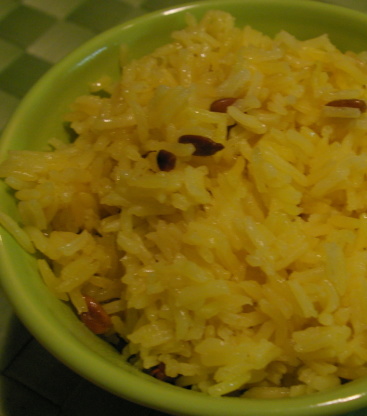 Perfect as part of an Indian menu. From Madhur Jaffrey.
Wash rice in several changes of water and drain. Transfer to a bowl and add enough wataer to cover generously. Leave to soak 30 minutes, then drain.
Heat oil over medium heat in a medium sized saucepan with a heavy base. When oil is hot add sesame seeds and stire until golden brown.
Add rice, turmeric and salt. Turn heat down to medium. Stir gently to saute 1 minute. Add 600 ml water and bring to a boil.
Cover rice with a tight lid and turn heat down as low as possible. Leave to cook, undisturbed, 25 minutes. Remove lid and transfer rice to a warmed serving dish.