Yellow Rice Pilaf Pomegranate
awalde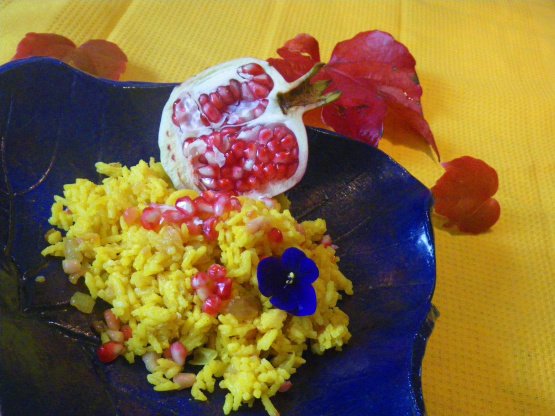 Colorful, tasty and simply delicious

I was hoping to have this photographed before serving but dusk got in the way. Sorry. Maybe next time I'll remember to prepare this earlier in the day. Regardless, this was a delicious rice dish. I had some problems understanding the directions and a few steps were changed. First, in the morning the rice was rinsed and the yogurt/saffron was stirred together. Later in the day, I thinly sliced yellow onions in oil. Melted the butter (which I omitted from the yogurt mixture) and fried the rice for a few minutes. Garnished the cooked rice with the caramelized onions. Plated, then for each serving a spoonful of the yogurt/saffron and finally the pomegranate arils. Question: Was I supposed to use yellow onions? The directions state spring onions, but they weren't indicated specifically in the ingredients' list. No matter. A delicious rice dish that will be made again very soon. Thanks for posting. Beautiful presentation!
Fry the onions in 2 tablespoon oil until golden. Set aside.
toast the rice with the remaining oil for 1 minute.
Add the spices and toast one more minute.
Add the water and the salt. Continue to cook covered by low temerature until the water is adsorbed. Take care you don't overheat the boilng rice!
Mix the margarine with the yoghurt and the saffron in a small bowl together and add to the rice.
Stir in the onions and pomegranate seeds.
Serve it hot.