Yellow Rice - Arroz Amarillo Con Achiote
Rita1652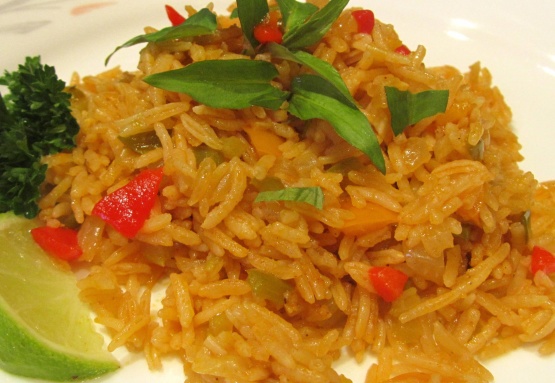 Make as a side to black beans for a nice vegetarian meal. Annatto seeds are brick red, triangular in shape, 1/8" - 3/16". The seeds are available whole and can often be purchased in a block or paste form at Latin American section of your supermarkets. Annatto was once used to control fevers, dysentery and kidney diseases, though is now used mostly as a dye in medical preparations such as ointments and plasters. In India the pulp is used as an insect repellent.

The best recipes to me are ones that you can improvise with and that allow you to work with what you have. This is one of those recipes!

I did not have the special bit that Rita used to infuse the oil, so I used jalepeno oil that I had on hand and skipped the infusion bit. I also did not have a red pepper, so I used green. Other than that, I made it the same, using chicken broth. I did not have pimentos, so I added fresh diced tomato and oh my goodness is it delish!

Thanks Rita!
Infusing Annatto Oil:.
Heat the seeds and oil in a small saucepan over low heat, swirling pan frequently, until the oil turns bright red-orange in color. Simmer for 1 to 2 minutes and then remove from heat. Let it cool for about 10 minutes and then strain the oil. Discard the seeds.
Reheat annatto oil and butter in a skillet. Saute the onions, celery and garlic with salt, pepper and cumin to taste until soft. Add the bell peppers and cook for another 2-3 minutes until the peppers are lightly cooked.
Next add the rice and stir into the mixture.
Saute it until the rice turns opaque.
Add the stock or water and cook covered for about 15 minutes in medium heat until cooked.
Garnish with cilantro, lime slices and Pimentos.