Ms B.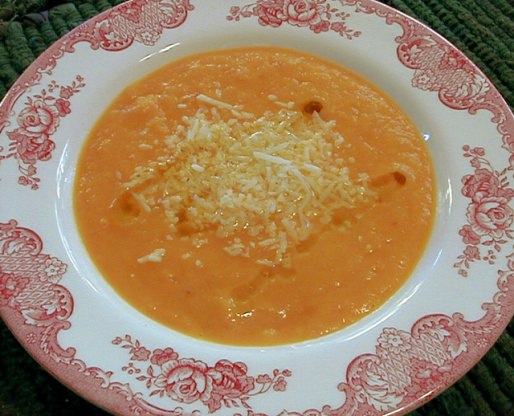 adopted 9/15 and addition of unsalted vegetable broth 2/23/07. Note I used a light vegetable broth not dark or roasted.

Mmmmmm...delicious. I served this as a side dish to some cornish game hens that I made for last nights dinner. It was wonderful! Thank you for an excellent recipe. I will be making this one again for sure.
Cook (sweat) onion, celery, carrot and garlic in olive oil until soft (about 10 minutes).
Bring stock to a boil.
Add peppers, potatoes, salt, chipotle and boiling stock.
Simmer for 20 minutes or until potatoes are soft.
Puree in food processor or use an immersion blender.
Serve in bowls with a sprinkle of parmesan and olive oil.
For a lower fat version use no fat parmesan cheese or omit. Do not use olive oil.
For Vegetarian do not use chicken broth. Use vegetable broth. For Vegan omit cheese also or use a vegan sub.