Yellow Melon Muscatel (Melon Salad)
WiGal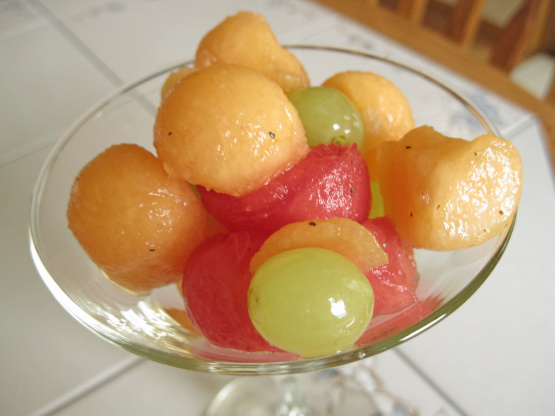 Another QETH (quick, easy, tasty and healthy) dish.

Top Review by WiGal
DH and I really enjoyed this and can't wait to share it with family and friends! I made a smaller batch --for 2- so I nuked the syrup for 2 minutes instead of putting it on the stove. Served with recipe#428681, carrots, and recipe#135214. Thank you Galley Wench for posting. Made for Unrulies Under the Influence during ZWT6 --NA*ME.
In a small saucepan, place the sugar, water, lemon juice, vinegar, and ginger. Heat to a boiling, stirring well.
Continue boiling for about 5 minutes, then strain syrup through a fine sieve or cheesecloth into a bowl.
Cool.
Meanwhile, de-seed the cantaloupes and watermelon. Using a melon baller, collect balls and place in a large bowl.
Sprinkle with salt and pepper, then sprinkle on the muscatel.
Toss gently.
Pour syrup over melon balls and refrigerate for several hours before serving.
To serve, decorate with mint sprig.