boyerobert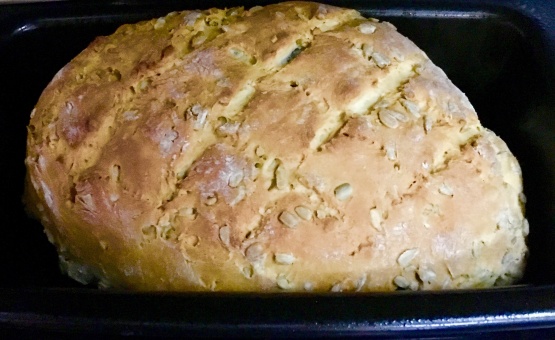 This is a country-style bread using no yeast. Make many variations to this bread for any occasion!

I wrote a review earlier for this, but I'm not sure if it went through... Just ignore it if it did. So, this recipe is a good starting off point... I experimented with it a little to make my own version because the bread I had when I baked it this way was WAY to overpowering with the taste of the baking powder. This is what I did: Mix in a bowl: 3 cups flour (I used all-purpose white, it turned out fine) 2 teaspoons baking powder 1 teaspoon salt 1 teaspoon garlic powder (not necessary, I like the little kick it gives my bread though. You can try experimenting by adding cinnamon or any other herb of your choice) In a separate bowl, mix: 1 1/2 cups liquid (I used plain old water) 1/4 cup liquid fat (I used olive oil) Then combine liquid into dry ingredients, mix. I found I didn't need to add any extra flour, the consistency is supposed to be sticky and not firm. I oiled my hands and shaped it into the roll form I wanted, then laid it onto my pan which was coated with olive oil. I cut an 'X' in my loaf... A nifty little trick you can use is to flour up your knife to do this, as just doing it without the flour can be kind of hard and not leave much of a mark at all. The cooking time may vary, just keep an eye on the top of the loaf, when it starts to firm up and take shape a little, take it out and rub some melted butter on the top of the bread, then put it back in until it's finished. You'll know it's finished when the top of the bread is a little brown. Voila! Take it out and let it cool, you're done!
3

cups whole wheat flour (preferably stone ground)

4

teaspoons baking powder

1

teaspoon salt
1 1⁄2 cups rice milk (works with any liquid) or 1 1⁄2 cups water (works with any liquid)
1⁄4 cup liquid fat (i.e. melted milk free margarine, vegetable oil, olive oil)
Mix dry ingredients.
Do not sift the flour!
Mix liquids and add to dry.
Stir until there is no more dry flour.
Depending on the humidity of the air where you live you may need a little bit more or less liquid.
The dough should be moist but not sticky.
It may take a few minutes for the flour to fully absorb the liquid, so don't rush to add liquid or flour to it.
Score lightly the surface in a diamond or X shape to prevent splitting of the crust.
This is a country style bread that should be sliced thick.
It is important not to overwork the dough.
Shape into a ball or an oval, with oiled hands.
Place on clean baking sheet.
Bake for 40 minutes at 400°F.
Variations: Rub the dough ball with virgin olive oil and sprinkle sea salt and oregano for a foccacia flavor.
For tea time add a tsp pure cane sugar.
The liquid can be replaced for orange or other fruit juice if the bread is to be used for teatime and you can even add dried chopped fruits.
For a savory bread the liquid can be tomato juice and you can add chopped sundried tomatoes to the dough.
Sprinkling of seeds in the dough or on top of the bread is also possible.