VickyJ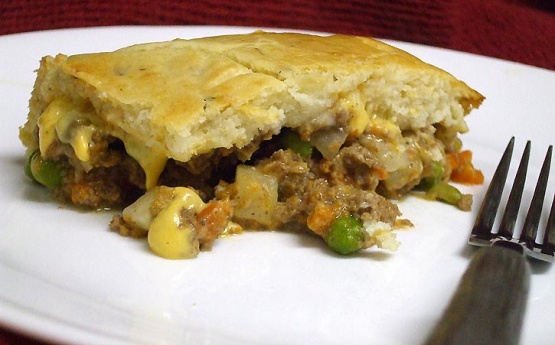 This is a culmination of many recipes for beef pie I have made over the years. It was put together with ingredients on hand. Some of them you might find strange, but turns out to make a delicious pie. Make sure you let the pie set for 10 minutes, before cutting. Serve with a nice green salad.

Top Review by Zaney1
This was an easy supper to put together. I added just a bit of beef stock b/c I thought the meat/veg mixture looked a little too dry. I didn't have Kitchen Bouquet so I added a couple splashes of Worcestershire sauce but I think I would skip it next time. It added a twangy flavor element that I wasn't crazy about( but that was my own doing NOT the recipe's).
Filling

1

lb ground beef
1⁄2 small onion, finely diced
1⁄2 green pepper, diced (regular size)

1

teaspoon salt

1

teaspoon pepper

1

small cooked potato, cooled and diced

1

(15 ounce) can mixed vegetables
1⁄2 cup frozen peas
1⁄4 cup beef gravy (homemade or prepared)

1 -2

tablespoon sour cream
breadcrumbs (I use this if the meat or veggie mixture seems runny) (optional)

1 -2

teaspoon kitchen bouquet browning sauce (if you love more beef flavor, but DON'T overdo it with this)
salt and pepper, to taste

2

slices cheddar cheese, cut in smaller pieces

Crust

1

cup Bisquick

2

garlic cloves, minced
1⁄2 teaspoon salt
1⁄2 teaspoon pepper

1

teaspoon dried basil

1

egg, beaten
1⁄4 cup milk (use more, if needed, to make a pourable batter)
1⁄4 cup ranch dressing
Preheat oven to 375°F.
Grease a 9-inch square, glass baking/casserole dish (I use Crisco or butter).
Prepare the filling as follows:.
Season ground beef with salt and pepper.
Brown ground beef with peppers and onions in 1 Tbsp olive oil over med heat, then drain grease.
Transfer beef mixture to a large bowl.
Add cooked potato, mixed vegetables, peas, gravy, sour cream.
Stir until well-blended. This is where you want to check consistency and taste for seasonings. If you are happy with the thickness of the filling, don't add the breadcrumbs. If it needs more flavor, then add the Kitchen Bouquet or salt-n-pepper to taste.
Prepare the crust as follows: In a med-large bowl whisk together Bisquick,garlic, salt, pepper, basil, egg, milk and ranch dressing. If it's too thick to be poured over filling, then add a bit more milk, until the desired consistency.
Spoon the filling into the greased 9-inch sqare casserole dish, and spread so it's evenly distributed. Add the pieces of cheddar cheese on top of filling.
Pour the crust batter over filling and spread evenly.
Bake for 20 minutes, then check for over-browning of the edges. If you notice that, put 1 - 2 inches of foil around the edges so they don't burn.
Continue baking for an additional 20 - 30 minutes.
Let pie rest for 10-15 minutes before cutting and serving.
This goes well with a tossed salad.