Yatsobi (Beef, Cabbage and Ramen Noodle Stir-Fry)
rpgaymer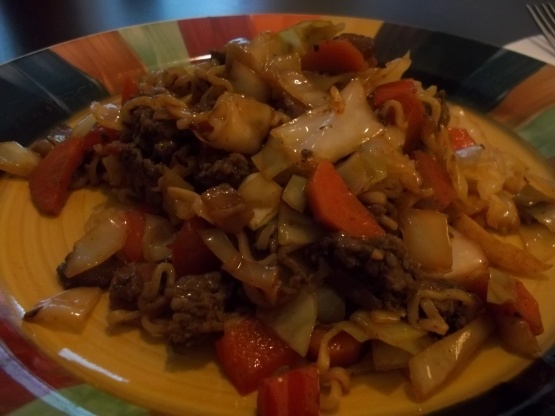 This is excellent. A friend at work gave me the recipe and she got it off the internet. I made it tonight with a few minor changes and loved it. It makes a lot but reheats well.

I've been making this recipe for about three years and it remains on of my son's favorites. We leave out the bean sprouts. Great recipe!
In a large skillet or wok, brown ground beef and set aside to drain on paper towels.
Fry bacon, drain on paper towels and reserve 2 Tbsp of the bacon fat.
Heat the bacon grease over medium heat.
Add chopped onions and garlic and cook for 3-4 minutes or until onions are soft.
Add 2 - 4 tbls. soy sauce.
Add carrots and cook for 2-3 minutes.
Add cabbage & red bell pepper.
Stir-fry on medium-high heat for 5-6 minutes or until vegetables are crisp tender. (We like ours crisp so you may want to cook longer).
Prepare Ramen noodles as directed on package, drain, and toss with a little olive oil to keep them from sticking together (do not add the seasoning packets).
Add ground beef, bacon and crushed red pepper flakes (if using) to the vegetable mixture and cook at medium heat for 2-3 minutes, or until meat is heated through.
Add bean sprouts and Ramen noodles to meat and vegetable mixture and stir fry 2-3 minutes, stirring frequently.
Serve with extra soy sauce to taste.