chia2160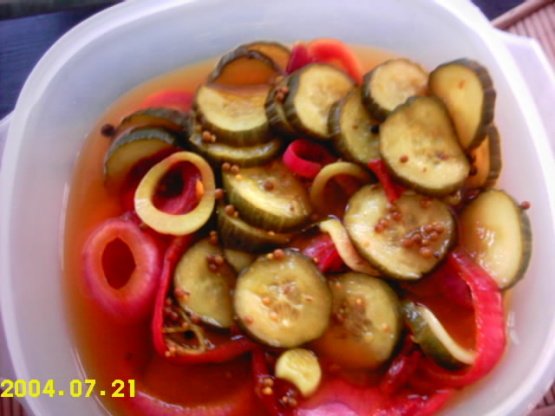 I got a jar of these pickle chips as a gift from my friend Cara, who got the recipe from her MIL Yardena. The minute I tasted these I knew I had to have the recipe. I love them with smoked turkey on rye, Diet Coke on the side.
Slice the cucumbers into thin slices.
Slice the onions into thin slices.
Place alternate layers of onion and cucumber in a colander with salt between each layer.
Let sit 3 hours- rinse, drain and squeeze dry.
In a large pot mix the sugar, vinegar, turmeric, whole cloves, allspice berries, cinnamon and mustard seeds.
Bring to a boil.
Reduce the heat, add the cukes and onions and mix very well.
Simmer for 3 minutes.
Don't drain.
Pour the mixture into a large jar and refrigerate.
It's ready the next day and keeps for weeks.