Krsi Sue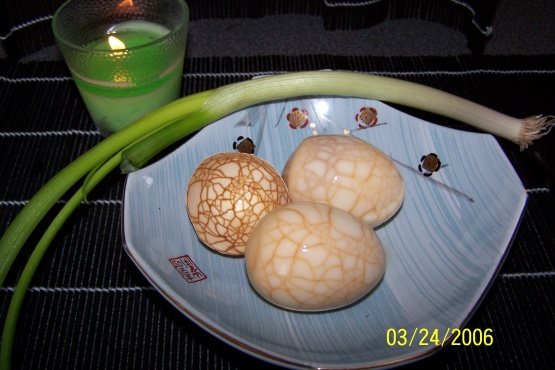 These are best if you let them sit in the refrigerator up to 2 days to allow the juices to soak into the eggs. I just cut open tea bags, since I don't have bulk tea. All passive time is cooking & cooling. Very pretty.
Gently tap the shells on the eggs all over to form cracks all over. Do NOT remove shells.
Mix together all ingredients, except eggs and bring to a gentle boil for 15 minutes.
Remove sauce from the heat, and place the eggs in the pan. Add enough water to cover the eggs.
Return sauce and eggs to heat, and simmer covered for 1 hour.
Remove from heat and place saucepan in the refrigerator overnight or for up to 2 days.
Peel the eggs just before serving.