Yankee Grapefruit Meringue Pie
wardland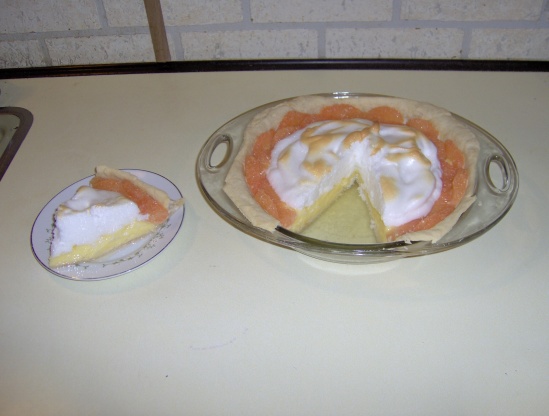 I'm intrigued by this recipe, which I have not tried yet. I've never heard of grapefruit meringue pie before but I love grapefruit, so I hope it will be good. I'm guessing as to number of grapefruit segments it will take to trim the pie; it may take more than 1 grapefruit.

The flavor was nice, but I had a fail because I tried to put the meringue on top of the hot pie filling. I don't think the first step in this recipe needs to be "preheat the oven" because it is going to take at least an hour or two for the pie to set up enough to accept spreading the meringue. The other note I would have been thankful for would have been in reference to whether the filling is actually supposed to come to a boil or not. Mine never did, even double boiling on high. I think it is a good recipe, but there are just some critical gaps in the instructions. With a pie crust already made, the process took over an hour to complete.
Preheat oven to 350°F.
In the top of a double boiler, mix together the cornstarch, sugar and salt; add 1¾ cup boiling water, stirring to blend.
Cook 15 minutes over simmering water, stirring until thick and smooth.
Beat yolks slightly; pour the cornstarch/sugar mixture into the yolks slowly, stirring constantly.
Return double boiler to the stove and cook 2 minutes longer.
Remove from stove and add butter, juice and peel, stirring until well blended; let cool, then pour into pie shell.
Arrange grapefruit segments, thick side out, around the edge of the pie on top of the filling.
To make the meringue, whip the egg whites until stiff peaks form, adding 6 Tbs of sugar gradually as you beat.
Pile the meringue on top of the filling, inside the circle of grapefruit segments.
Place in the oven 7-8 minutes until the meringue turns golden-brown.