lazyme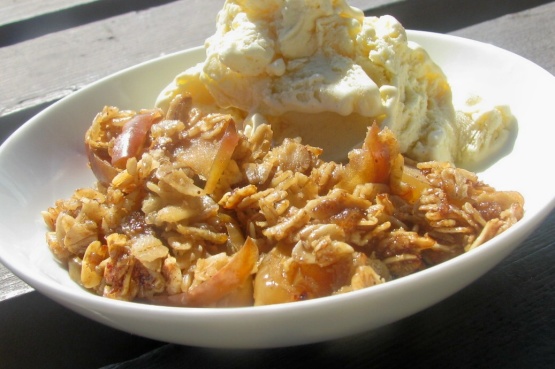 This is a simple, homey, comfort food that everyone seems to love. I adapted this in the late '70s from a recipe I found in a Yankee Magazine Cookbook. If you like lots of topping add half again or double it (double is pretty sweet). This is the perfect recipe for potlucks and parties as you can make it ahead, and it travels well. I love it for breakfast with a hot cup of coffee or tea.

Top Review by ImPat
This I would have to say is the best apple crisp recipe I have ever had, I scaled back for 4 serves but I was only serving 3 and used 2 large granny smith apples and with the exception of the sugar (only used 1/4 cup instead of 1/2 as we don't like overly sweet and it was perfect), I made them as individual serves and they took 40 minutes to cook at 175C fan forced for lovely soft fruit and crispy topping (I left them for about 10 to 15 minutes before serving to cool a little and served with a dollop of cream, I am still salviating over the taste as I post this review, thank you momaphet, made for Please Review My Recipe.
Preheat Oven to 375 degrees.Lightly grease or spray a 9x13 pan (pyrex is good) or any other 2 qt baking dish.
Melt butter in medium pot or bowl, remove from stove or microwave and stir in oats, brown sugar, flour, spices and nuts if using.
Peel, core and slice apples (thin or a little thicker - I use my corer/peeler/slicer which makes them pretty thin), then place in pan - I like to sprinkle the apples with a little cinnamon.
Sprinkle crumbs over tops of apples covering as much as possible but a few gaps are ok.
Bake for 45 minutes, if crumbs start to get too brown before the apples are done, you can float a piece of foil loosely over the top. Apples should be very soft when poked with a thin knife.
Serve warm or at room temperature, wonderful with fresh whipped cream or vanilla ice cream.
NOTES:.
You can use other apples, Granny Smiths are pretty tart but that makes a nice contrast with the sweet topping. You can add a couple of teaspoons of sugar if you think they might be too tart for you or use a combo of apples - you can use your favorites, but avoid ones the go to total mush when baked.
I often stir 2-3 tsp of flour into to the apples to avoid watery juice in the bottom of the pan after baking.
I like to use whole wheat pastry flour (not regular whole wheat) for added flavor and nutrition, or a little wheat germ in with the white flour is good too.
You can use this for other fruits also - sometimes I add in some frozen raspberries or sub peaches for the apples, they like blueberries and raspberries too. Peaches will probably need the extra sugar and flour added to them and a little ground ginger and/or cloves added to the topping is delish!