Yakitori Chicken (Skewers)
ImPat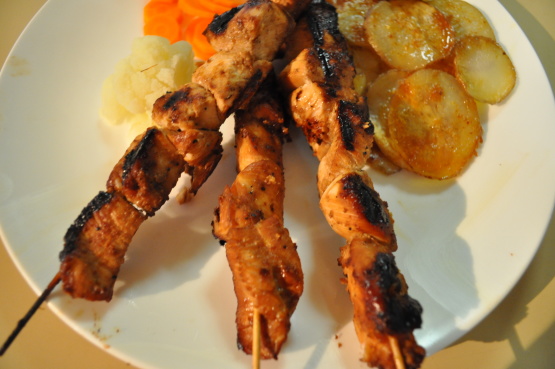 Great as a main meal with some rice and veges or as a fingerfood appetizer. Use a gluten-free soy sauce if cooking gluten-free (Aussies- Chang's brand is currently gluten-free). Bottled crushed ginger can be used in place of the fresh grated ginger. Bamboo skewers should be soaked in water for 5 minutes before using to stop them catching alight during the cooking time

Oh my goodness, these were so flavorful - of course, they are my favorite flavors, soy and ginger! I marinaded my chicken pieces for about an hour and a half, which might have made them more flavorful than the recipe would normally be. I used honey in place of the sugar. Would certainly make again! Made for ZWT6.
Cut chicken into 2 cm pieces.
Using a large bowl, combine all of the ingredients and stand for 10 to 15 minutes.
Drain the chicken and reserve the marinade.
Thread the chicken pieces onto 12 bamboo skewers.
Cook the chicken skewers on a BBQ or grill plate . Turn them during cooking and brush with the reserved marinade (Only brush with marinade during the first half of the cooking time).
Cook until browned all over and cooked through.