Yakitori (Chicken on Skewers)
Pneuma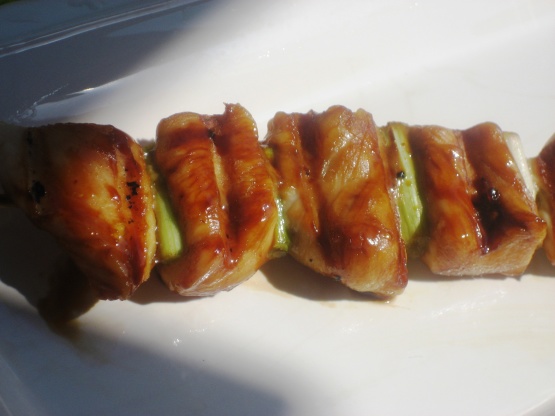 These have a wonderful bourbon, golden colour, and the flavours in the recipe speak for themselves. 'Nuff said!

Top Review by Gerry
Love Yakitori and we love skewers making this the perfect recipe to try at our house. Like Pneuma used chicken breasts and found it a delicious version of Yakitori. Not having mirin on hand I used a white wine which worked for me - will be sure to have it next time around. Setting the recipe aside to use for starters the next itme we do a get together. Thank you djmastermum.
Soak 25 wooden skewers in water for 20 minutes.
Cut chicken into bit size pieces.
Combine sake, soy, mirin, and sugar in small pan, bring to boil, set aside.
Thread chicken on skewers, alternatively with the scallions.
Place skewers on foil lined tray and cook under preheated grill, turning and brusshing frequently with sauce for 7 - 8 mins, or til chicken is cooked.