Very easy and very good quick summer dinner. Please note time to make does not include time for marinating.
Directions
Prepare Teriyaki Sauce: Combine soy sauce, sugar, ginger, garlic and jam in bowl. Cut chicken into 1 inch pieces and add to sauce. Refrigerate for 1 to 4 hours. (I go for 8 hours).
To form kabobs, alternate pieces of chicken and green onion on 8-inch metal skewers. Baste with Teriyaki Sauce.
Broil in preheated broiler 6 inches from heat for 10 minutes or until chicken is cooked through, turning skewers 3 to 4 times. Although using the oven is the original directions, they can also be cooked on the grill.
Reviews
Most Helpful
This is one of my favorite marinades now. Everyone asks for the recipe each time I've made it. I love how the flavors all mix together. Definitely a keeper! Thank you!

Oh nom nom nom, these are awesome! I saw the recipe in Let's P-A-R-T-Y and just knew I had to make it. Wow I'm so glad I did. Just like Acadia, I doubled the marinade and reserved for dipping sauce. So good! Solid 5 star recipe!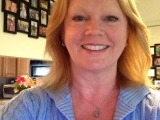 WoW! Such a flavorful yummy kabob! I thought at first that the green onion would burn before the chicken was finished cooking on the grill, but I was wrong. Because it was placed on the skewer length wise it was away from the heat and gently cooked enhancing its flavor. I doubled the marinade reserving half of the half for basting the kabobs, and as a dipping sauce as well. This is definitely going in my keeper file. Made for Let's P-A-R-T-Y tag.