Yakisoba Noodles With a Kick (Vegetarian)
teresas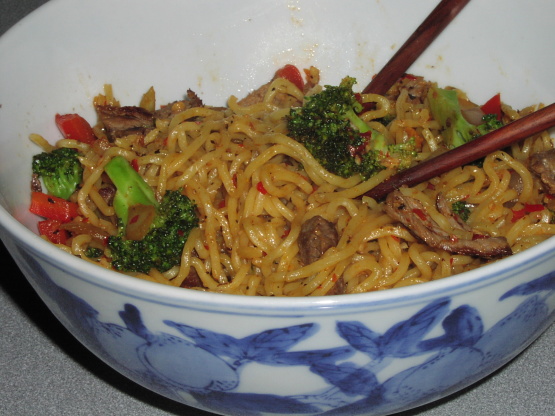 We had bought some fresh Yakisoba noodles and my boyfriend sort of threw this recipe together. It turned out really well, especially since we like things rather spicy. I've made this with just the chili-garlic sauce and also with a mix of the chili black bean and black bean garlic sauce. Pick your favorite sauce or a combination that sounds good to you.

I loved this...and I really loved that it's low in sodium...no soy sauce with this one...I did change just a couple of things...I used red peppers instead of green...thought the added color would look nice and I made mine a non vegetarian dish...I used real beef...Yummy! My choice of sauce was the hot chili-garlic one...this is a keeper thanks for posting it...made for Fall PAC 2012
2

cups water

4

ounces vegetarian beef strips, Vegeusa brand, thin beef strips (dehydrated mock beef)

1

tablespoon olive oil

1

large onion, chopped

1

green pepper, chopped (optional)

1

head broccoli, chopped

4

tablespoons minced garlic
3 1⁄2 ounces sun luck hot chili-garlic sauce, chili black bean sauce, and or 3 1⁄2 ounces black bean garlic sauce

2

dashes sriracha hot chili sauce (squirts)
2⁄3 cup water

2

lbs yakisoba noodles, fresh
sesame oil
In a medium pan, boil 2 cups of water. Add Vegeusa beef strips and cook until tender (approximately 5 minutes). Drain and set aside.
In a skillet, cook onion and green pepper (optional) in olive oil until slightly tender, then add broccoli and cook until tender. Set aside.
While your veggie are cooking, prepare the sauce by mixing the minced garlic, sauce combination of your choice, sriracha chili sauce, and water.
In your skillet or hot wok, add rehydrated beef strips and cook for a minute or two just to brown it a bit, then add your veggie mix, Yakisoba noodles, and sauce and mix well. Add black pepper and sesame oil to taste (I usually just try the cover the top with black pepper and maybe make a small circle with sesame oil. Stir until well mixed. Heat for 5-10 minutes and serve.