Satyne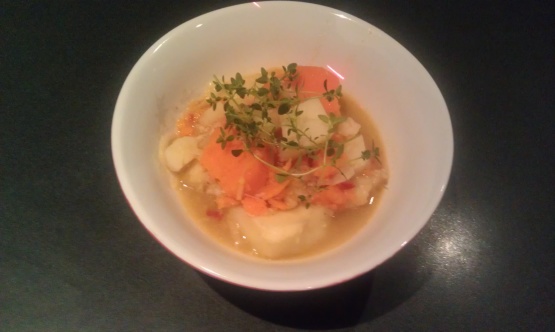 Hot Potato Stew from the Arab Emirates. From the Vegetarian Journal

Top Review by Satyne
Absolutely Scrumptious. The spices were delicate and it smelled divine. I used some sweet potato as well since I was running low on regular potato and I love how nicely it went with the cumin. Garnished with a sprig of Lemon Thyme. I will definitely make this again.
Peel and chop the potatoes into large pieces.
Sauté peppers and onions over medium heat in oil for 10 minutes.
Stir in the coriander and garlic and stir-fry for another 3 minutes.
Add the remaining ingredients and bring to a boil. Cover and cook over medium heat for 40 minutes. The potatoes should be well done but still somewhat firm.
If needed add more water.
Serve hot.