Yadda May's Strawberry Pie
Katzen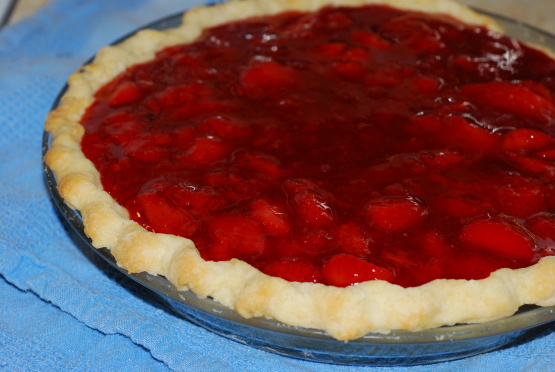 The strawberry filling was oh-so-good. Yadda May says, "The ladies at our quilting circle just throw a fit over this!" This is from The Treasury of White Trash Cooking. I wasn't wild about the plain cream cheese part, but then again, I didn't follow directions and add the milk. Who knows? I think maybe that layer could use a little sugar. I counted baking the crust as the cooking time. I use the rolled pie crusts in a box in the refrigerated section of the grocery store.

Top Review by Katzen
This is one gorgeous pie!! I made the crust from scratch (like Mom taught me), and used frozen sliced strawberries, which worked perfectly. I also added 1/2 cup of the sugar to the cream cheese mixture, and 1/2 cup to the berries. Instead of flour, I used cornstarch (that's what Mom taught me!) I should have made it a few hours earlier, so it would set better, but even as it was, I had offers to lick the plate! Thanks so much for posting this, mliss! This will definately be made again! Made for Veggie Swap 23.
Over medium heat, cook berries, sugar, salt, and flour until thick.
Separately mix cream cheese with a bit of milk to soften the mixture.
Pour the cream cheese mixture into an already-baked pie shell.
Top with the cooked strawberry mixture.
Chill before serving.