Xtreme Green Cheesy Mashed Potatoes
lazyme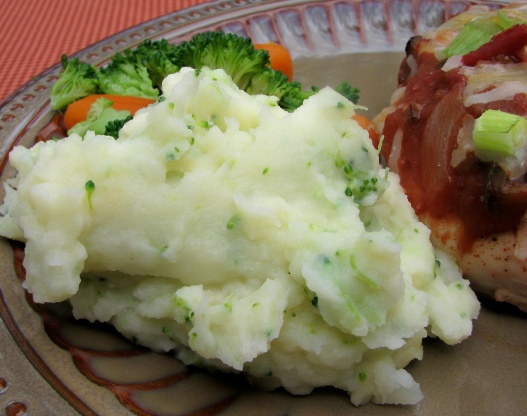 Mashing broccoli with cheese and potatoes might just be the ticket to getting your kids to eat their veggies. From Eating Well Magazine.

I scaled this back to serve two and we just loved this dish. Interestingly low-fat milk (or cream) seems not to compromise flavour in any way, whereas low-fat cheese (in my opinion) is tasteless. So I was really glad that this recipe used regular cheese! I added a generous pinch of cumin in step two and some garlic salt. Fabulously flavoursome: thanks for sharing this recipe, ~Jen~. Made for Healthy Choices Tag.
Bring one inch of water to a boil in a large pot. Place potatoes in a steamer basket and steam for 10 minutes. Place broccoli on top, cover and steam until the potatoes and broccoli are tender, 6 to 8 minutes more.
Transfer the broccoli to a large bowl and coarsely mash with a potato masher. Add the potatoes, cheese, milk, salt and pepper and continue mashing to desired consistency.
Serve immediately.