X-Ray Vision Chocolate Chip Cookies
ImPat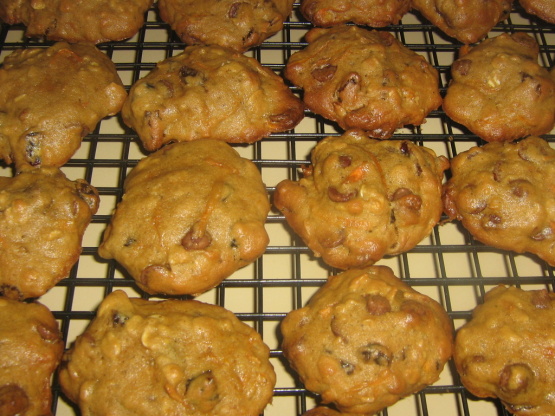 Can these cookies help you see better at night? Carrots contain Beta-carotene, which is converted to vitamin A in the liver, and Vitamin A helps to maintain healthy vision. Unbeknownst to "old wives" around the world, though, the carrots do not contain enough Beta-carotene to make any significant difference. They are healthy though, so these cookies are a yummy way to eat your veggies! From Karin Woodbury of Ocala, Florida.
Preheat the oven to 350 degrees.
In a large mixing bowl, beat eggs, brown sugar, milk and oil.
Combine the flour, baking powder, salt, cinnamon, baking soda and nutmeg; add to the egg mixture and mix well. Stir in the chips, oats, carrots and raisins.
Drop by heaping teaspoonfuls onto baking sheets coated with nonstick cooking spray; flatten slightly.
Bake for 10-13 minutes or until golden brown; remove to wire racks to cool.