X-Ceptionally Healthy Eggs Benedict

Don't rate this one as if it were the original version with 30 grams of fat but I do think you'll like it! I LOVE eggs benedict so played around with six different light versions to come up with the best!
Directions
In a skillet over medium heat, lightly brown Canadian bacon or ham in cooking spray (about three minutes each side); remove from skillet and keep warm.
Meanwhile, combine lemon yogurt, dry mustard, salt and cayenne in a small saucepan and whisk gently on low heat until warm and smooth (alternatively you can microwave them in a small dish.).
Fill a large skillet with 2 inches of water and 1 tablespoon vinegar. Bring water to a boil and reduce heat to a low temperature where the water is still consistently boiling but very low; crack one egg into a small dish and gently pour it into the skillet, doing the same for each additional egg, one by one. Simmer for 3-5 minutes until desired doneness, spooning hot water over the yolk until slightly opaque.
In the meantime, toast the english muffin (if a family member is not watching his or her weight you may want to butter his or her muffin);place a toasted muffin half on each plate with a piece of ham on top.
When the timer rings,carefully remove eggs from the water with a slotted spoon, letting the excess water drain away; place on top of ham; drizzle sauce over the top; garnish with parsley and serve immediately.
Reviews
Most Helpful
This was a hit at our house. I did use light sour cream to replace the yogurt and it did the trick; even my fussy husband was amazed how it turned out. Thanks for posting.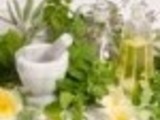 Used sour cream, fresh lemon and brown mustard. It satisfied my craving for Eggs Benedict. Nice!
Will admit that I juggled things a little bit here in that, although I couldn't find any "lemon low fat yogurt" I did use some plain low-fat yogurt & added to it a small amount of lemon juice AND a bit of lemon zest, then went on from there, using Canadian bacon! Don't think I've ever had, much less made, eggs benedict, but my other half has & was very pleased with the results here! Definitely a keeper recipe! [Tagged, made & reviewed in Healthy Choices ABC tag]