Wyatt's Cafeteria German Chocolate Pie
PaulaG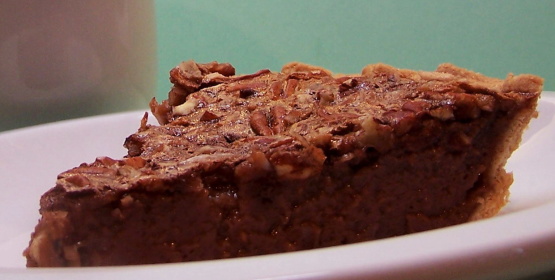 A wonderfully rich dessert from Wyatt's as published in our local paper.
Top Review by PaulaG
A walk down memory lane. I remember Wyatt's Cafeteria quite well. It was our families stopping off point after church on Sunday. I did not learn until recently that this pie was my sons favorite. I made it today for dessert and it was definately a big hit. Thanks for posting a great recipe and wonderful memories. Would not change a thing.
Preheat oven to 375F.
Whip sugar, cocoa, cornstarch, flour, vanilla, salt, and hot water until smooth.
Stir in eggs; add canned milk.
Mix well and pour into unbaked pie shell.
Top with pecans and coconut.
Bake 50 to 60 minutes (center will be a little fudgy).
Cool before cutting.