Wwltmom 's Alfredo Sauce Made Lighter
Pneuma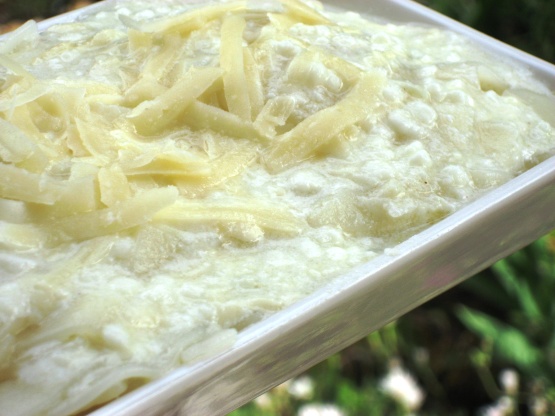 This is a modification of Alfredo Sauce. Note: This recipe calls for arrowroot or cornstarch- the amounts are different so make sure you use the proper amount for the thickener you are using.

Tried this with arrowroot... turned into a slimy mess. Then of course I looked up arrowroot in my Food Substitutions Bible and read "Arrowroot starch should not be used as a thickener for dairy-based sauces, since it turns them slimy". Sigh!
Blend cottage cheese with powdered milk until smooth.
Combine milk, garlic and cottage cheese mixture in 1 1/2 quart saucepan. Heat until warm, but do not boil.
Dissolve arrowroot in cold water. Stir or whisk the cold mixture into, milk mixture.
Bring liquid to a simmer and simmer over low heat 5 minutes or until sauce is slightly thickened, stirring constantly.
Remove from heat and whisk in parmesan cheese, salt and white pepper.
Stir until just combined. Overstirring can make it thin again.
Toss with hot pasta; sprinkle with parsley. Serve immediately.