Ww Watch Your Weight Chicken Cacciatore
CandyTX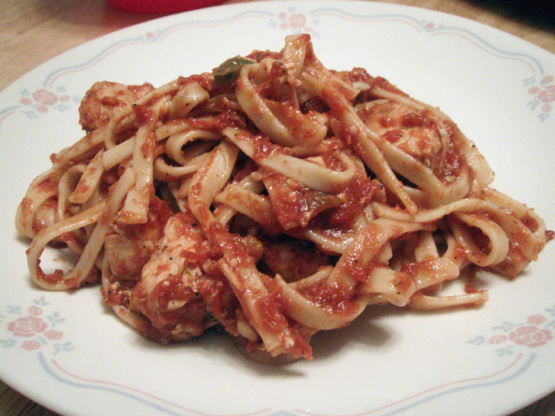 This dish is 8 points per serving. I substitute beef broth for the wine.

This had excellent flavor and was easy to make. When I think of diet food, I tend to think of something bland. This was great and full of flavor. I didn't see any Italian-style stewed tomatoes at the store, so we used Italian-style chopped tomatoes. My tastes don't agree with most red wines so I used the beef broth suggestion. Thanks for the great recipe.
Season chicken with salt and pepper.
Lightly coat a large nonstick skillet with cooking spray.
Add olive oil and heat.
Add chicken breasts and cook over medium heat until browned and juices run clear, around 5 minutes on each side.
Add onions, peppers and garlic to skillet.
Cook until vegetables are softened.
Stir in wine and tomatoes.
Bring to boil, then reduce heat to medium-low.
Cover and simmer 20 minutes.
Sprinkle with parsley and serve with pasta.