Ww Very Berry Coffee Cake
Annacia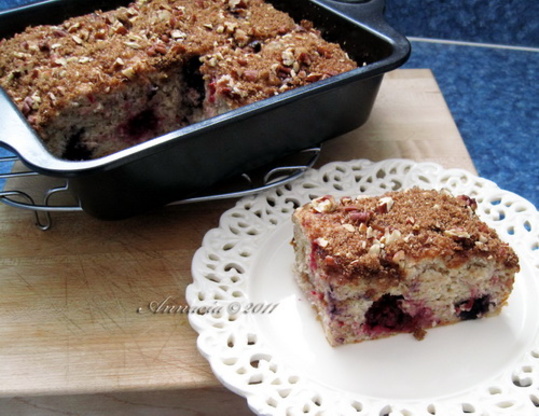 I took a go to coffee cake recipe and lightened it up. The result is a sweet and fruity morning cake that just costs you 5 points plus and tastes like the real thing! I used frozen berries in the winter, but in the summer fresh is wonderful!

Delicious and almost fat free! I made this in Feb and used frozen mixed berries for a marvelous, fluffy. light textured cake. I followed the recipe to the letter and 35 mins gave me a perfectly baked treat that DH also loved. You *must* try this still a little warm from the oven, pure heaven. Made for Photo Tag.
In a small bowl, add the first three ingredients; stir to combine and set aside.
In a mixing bowl, add the egg, milk, yogurt, applecause and vanilla; stir until blended.
In another bowl, add in the two flours, Splenda, baking powder and salt; stir to mix.
Pour the egg mixture over the flour mixture and stir just until dry ingredients are moistened.
Fold in the berries and press into a greased 8 x 8 inch baking pan.
Sprinkle with the Splenda brown sugar-pecan topping and lightly press into the batter.
Bake at 350 degrees for 35 or 40 mm inutes or until a pick comes our clean. Let cook, cut into squares and serve.