Derf2440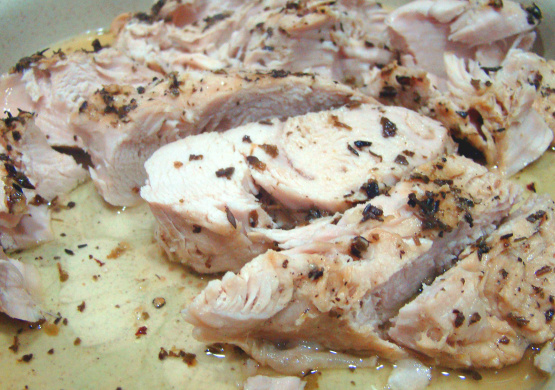 Juiciest turkey breast imaginable! Adapted from about 15 people's recipes... Each 200g is only 4 Weight Watcher points!

I made a 3lb turkey breast, adjusting accordingly and it turned out so very tender. A real family winner here and healthy too! I made it in the crockpot, thanks to another review. I served it with mashed potatoes, gravy, and broc. and cheese, but just about any side would go well with it. Thanks for the great recipe!
800

g turkey breast, thawed
1⁄2 teaspoon thyme
1⁄2 teaspoon garlic salt
1⁄2 teaspoon oregano
1⁄2 teaspoon sage

1

teaspoon nonfat cooking spray (to wet the herbs)
1⁄2 teaspoon lemon juice
salt and pepper
Preheat oven to 160 degrees celcius.
Combine thyme, garlic salt, oregano, sage, no fat spray, lemon juice, salt and pepper.
Carefully loosen the skin from the breast.
Spread the herb mixture under the skin.
Replace the skin over the herbs.
Spray the turkey breast with no fat spray.
Wrap the turkey breast in aluminum foil.
Heat for 1/2 hour at 160 C, then reduce to 140 C for the remaining hour.
Roast the breast until a knife inserted into the thickest part of the breast has the juice run clear.