Ww Szechuan Green Bean Stir-Fry 1- Point
Prep 10 mins
Cook 10 mins

This is out of my old WW cookbook called 123 Success Recipe Collection, dated 1997.This side dish is packed with flavor and color. Serve it with chicken breasts marinated in a teriyaki-soy mixture for a speedy, delicious supper.
Directions
In a large saucepan, steam the green beans until crisp, about 5 minutes.
Drain in a colander.
Meanwhile, in a small bowl, combine the soy sauce, ketchup, vinegar, dissolved cornstarch and pepper sauce.
Spray a large nonstick skillet with nonstick cooking spray;heat. Stir-fry the green beans and garlic 2 minutes add the soy sauce mixture and cook, stirring, until thickened, about 3 minutes longer. stir in the bamboo shoots, (if using) and sesame oil, serve at once.
Most Helpful
This was a nice way to serve the overabundance of green beans that I harvested from the garden this summer. I will definitely make it again. Green beans can tend to be bland but this recipe added a nice flavor while still being healthy.
I really loved this combination. The green beans turned out perfectly and the sauce was so delicious. I used water chestnuts and thought it paired beautifully. A yummy way to get some extra veggies! Thank you.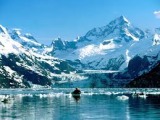 Unfortunately, these green beans did not turn out very tastey. I had high hopes, since I love green beans, garlic, and sesame oil. For some reason, these just didn't meet expectations. Made for Potluck tag game.