Ww Spicy Molasses Baked Beans - 2 Pts.
Katzen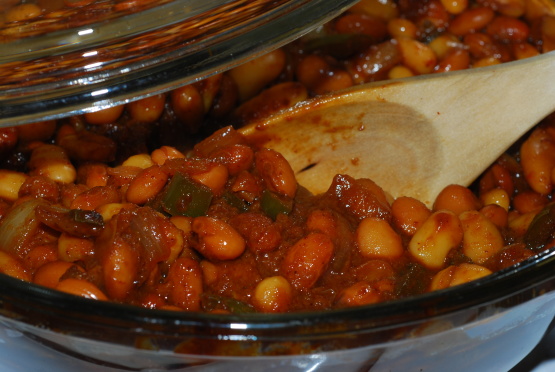 This is out of a really old Weight Watchers Magazine. Most baked beans use dried beans but this uses canned beans. It saves you hours of cooking time. This is so weird... it says it doesn't include the beans but if you look at the details it does...the recipe in the magazine shows 148 cal, Pro 7.2g, fat 0.6, Carbs 30g, Fib 3.5g

I used two cans of pork and beans (undrained) since I didn't have the other beans and baked for 45 minutes. Turned out very well for being much lower in sugar than the regular beans that I make. Nice side dish for the weight watchers plan. Thanks for posting!
Preheat oven to 350°.
Coat a small nonstick skillet with cooking spray, and place over medium-high heat until hot.
Add onion and jalapeno pepper; saute 2 minutes or until tender.
Combine onion mixture, beans, and remaining ingredients in a large bowl; stir well.
Spoon bean mixture into a 2-quart casserole coated with cooking spray.
Bake, uncovered, at 350° for 1 hour or until thick and bubbly.