teresas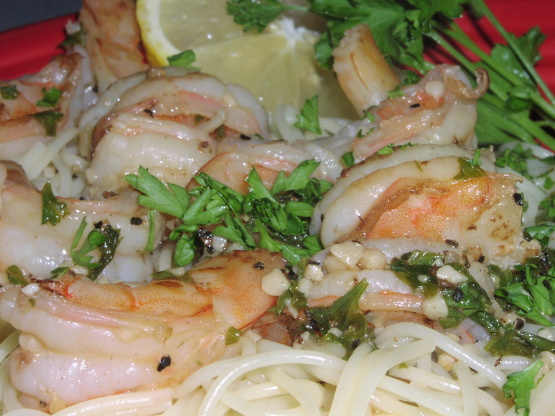 Eat shrimp scampi without the guilt! 4 points per serving.

Excellent - we didn't have any white wine so used mirin and sherry. After we ate the shrimp we cooked our herring fillets in the sauce - suppose it would be called poaching the fish and those were enjoyed by the whole family as well.
In a large nonstick skillet, heat the oil. Sauté the shrimp until just pink, 2-3 minutes.
Add the garlic and cook stirring constantly, about 30 seconds.
With a slotted spoon transfer the shrimp to a platter, keep hot.
In the skillet, combine the broth, wine, lemon juice, 1/4 cup of the parsley, the salt and pepper; bring to a boil.
Boil, uncovered, until the sauce is reduced by half; spoon over the shrimp.
Serve garnished with the lemon slices and sprinkled with the remaining tablespoon of parsley.
Note: I have also added scallops to this with great results!