Ww Seafood Linguine - 7 Points
Annacia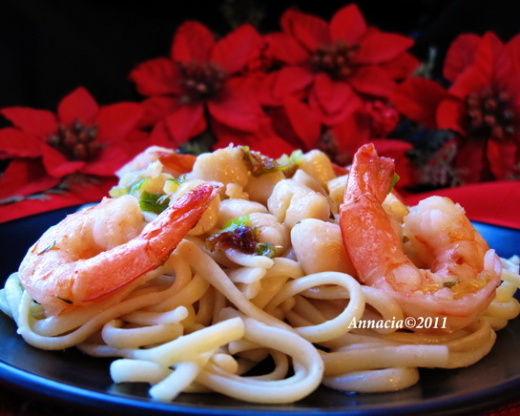 This is out of the WW cookbook called "Simply the Best". It is outstanding! Hope you enjoy it.

This recipe is right up my ally :D. 99.8% of the time the only salad dressing that I use is lemon juice and a sprinkle of salt (even in restaurants) so I knew that I was going to love this before I started. I subbed scallops for the crab as I had them in the freezer. It came out wonderful with the scallops . All in all. a great lighter meal that I would be happy to serve to company.
In a large nonstick skillet, heat the oil.
Add the scallions and garlic; cook, stirring constantly, until softened, 2-3 minutes.
Add the shrimp, crab, wine, lemon juice, pepper flakes, thyme and salt; cook, stirring constantly, until heated through, about 3 minutes.
Serve the linguine, topped with the seafood mixture.