Ww Roasted String / Green Beans
I just love roasted veggies.
Make and share this Ww Roasted String / Green Beans recipe from Food.com.
1⁄2 lb green beans, snap off ends
1 tablespoon oil
garlic salt or onion salt, to your liking
Directions
HEAT OVEN TO 450°F.
Put beans a baking sheet with sides.
Roll in oil. Sprinkle with salt.
Bake 12 minutes. Stir half way.
Reviews
Most Helpful
We really enjoyed the flavor but they weren't tender until they had been roasted for a good 20 minutes. This method of fixing the green beans will especially come in handy when I using the oven to prepare the main dish already. Thanks for sharing!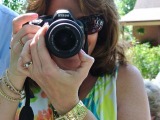 This has become a standby at our house. It is so fast and delicious. I use frozen whole green beans, olive oil, and the onion salt. I've started trying the same method with other veggies as well. Baby yellow squash cut in half were wonderful. They took a tiny bit longer.

Get Healthy Your Way