Ww " Red Lobster" Cheddar Biscuits
KateL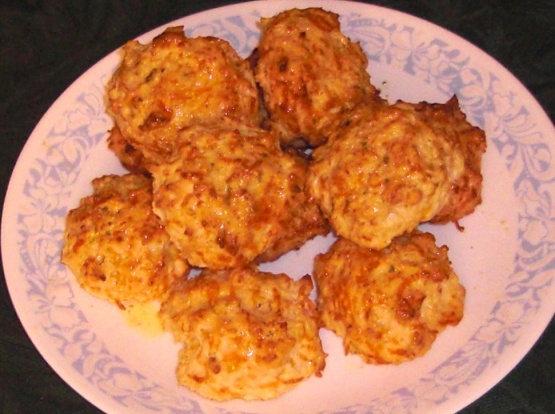 I haven't tried this but it's only 2.5 points on the Weight Watchers program. Might be worth it.

These biscuits baked up nice, and I liked the buttermilk in them, but I think they need a little more seasoning. If I would make them again, I'd add a little more seasoning to them.
Preheat the oven to 400 degrees.
Combine the baking mix, milk and cheddar cheese in a medium bowl.
Mix by hand until well combined.
Divide the dough into 12 equal portions (about 3 tbsp each) and spoon onto a lightly greased or nonstick cookie sheet.
Flatten each biscuit a bit with your fingers.
Bake for 18 to 20 minutes or until the tops of the biscuits begin to brown.
In a small bowl, combine the buttery spread with the garlic powder and the parsley flakes.
Heat this mixture for 30 seconds in the microwave, then brush a light coating over the top of each biscuit.