Ww Pasta With White Clam Sauce - 7 Pts
last1on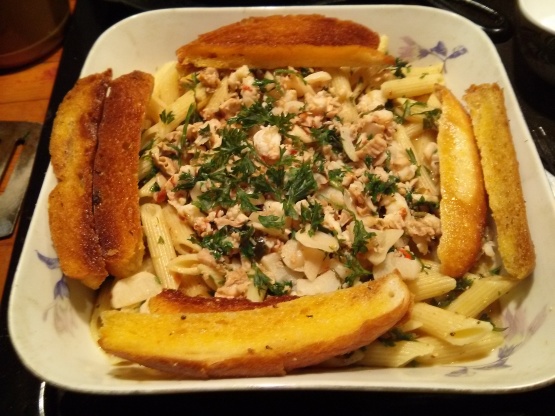 Another old recipe out of a WW magazine.The magazine shows: 323 cal, 7 g fat, 1 g fib.

I didn't make this for the purpose of Ww, I'm just a huge fan of pasta with white clam sauce and this recipe doesn't disappoint, the lemon really gives this great flavor. I made as written but scaled it down for 1 serving and omitted the bottle of clam juice as there was plenty of juice in the can of clams. This will be added to my clam sauce rotation and "Best of 2012 Cookbook" as well, thanks! Made for 123HITS *APRIL 2012*
Drain clams, reserving juice.
Set clams and juice aside.
Heat olive oil in a small saucepan over medium heat.
Add garlic; saute' 2 minutes or until golden (do not allow to burn or garlic will be bitter).
Add reserved clam juice, bottled clam juice, basil, and crushed red pepper flakes; bring mixture to a boil.
Reduce heat, and simmer, uncovered, 3 minutes.
Add clams and lemon juice; cook 3 minutes or until clams are thoroughly heated.
Combine pasta and clam sauce in a large bowl.
Add chopped parsley, lemon rind, salt, and pepper; toss well.
Spoon 1 cup pasta into each of 6 individual shallow bowls, dividing clam sauce evenly.
Sprinkle 2 tsp Parmesan cheese over each serving.