Ww Parmesan Chicken With Mushroom-Wine Sauce
loof751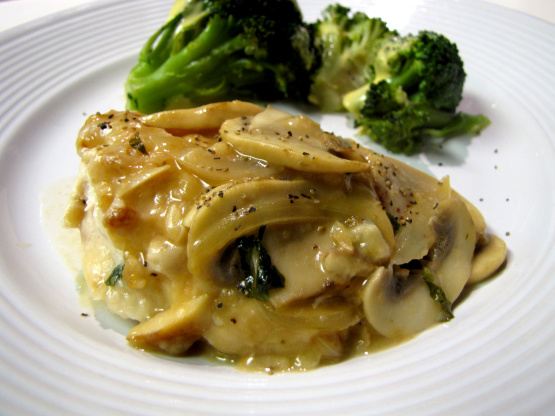 This is an old recipe from back when you counted portions and not points. I love this dish. This recipe has 8 SMART Points (7 Points plus) per 4oz serving. Posting it here for save keeping. Please try it.

I can't believe this is a weight watcher's recipe! It tastes so rich. I got double the mushrooms since my son doesn't eat them. Loved it that way. Will probably double the mushrooms when I share with a fellow mushroom lover. Made for FYC tag. Thanks for sharing!
On sheet of wax paper or a paper plate combine flour, Parmesan cheese, and 1/4 tsp each salt and pepper.
Dredge chicken in flour mixture, coating both sides and reserving any remaining flour mixture.
In 10-inch skillet heat 1 1/2 tsps oil over medium-high heat; add onions and garlic and saute until onions are softened.
Add mushrooms, basil and remaining 1/4 tsp salt and saute until mushrooms are tender, about 5 minutes.
Transfer mixture to plate and set aside.
In same skillet heat remaining 1 1/2 tsp oil; add chicken and cook, turning once, until lightly browned 1 to 2 minutes on each side.
Stir in any reserved flour mixture; gradually add wine and water and, continuing to stir, bring mixture to a boil.
Return mushroom mixture to pan and cook until heated through.