Ww Oven-Barbecued Pork Roast - 5 Points
Annacia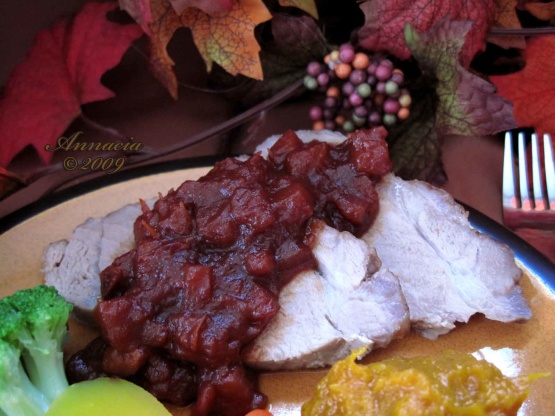 This is out of the WW cookbook called "Simply the Best". It is delicious. Hope you enjoy it.

Top Review by Ck2plz
I used a little a 2 lb pork loin. It took longer as expected but it took longer because of me. I read up on cooking pork. They advised 160 is the perfect pork temperature. With this said, they advised to pull out at 150-155 and let it sit. This would give it a little bit of a pink color inside. I cooked mine a little longer b/c of my taste. I doubled the sauce but not the apples. I used canned whole cranberries in sauce. I cooked for 30 minutes and it was perfect. IMO, you will have simmer the sauce longer if you use fresh cranberries. No other changes. Baby Ray's is my favorite BBQ but I think I will use a different kind next time. I did have some leftover sauce. I would make this again.
Preheat the oven to 325 degrees.
Place the pork on a rack in a shallow roasting pan.
Roast until the pork is browned and the center reaches 165 degrees on a meat thermometer, about 1 hour and 20 minutes.
Meanwhile, in a medium saucepan, combine the apples, cranberries, barbecue sauce, sugar and 1/4 cup water; bring to a boil.
Reduce the heat and simmer, uncovered , stirring as needed, until the cranberries pop and the sauce is slightly thickened, about 15 minutes.
Place the pork on a serving platter and slice.
Spoon the sauce over the pork slices.