Ww North Carolina BBQ Pork Tenderloin With Mop Sauce
lazyme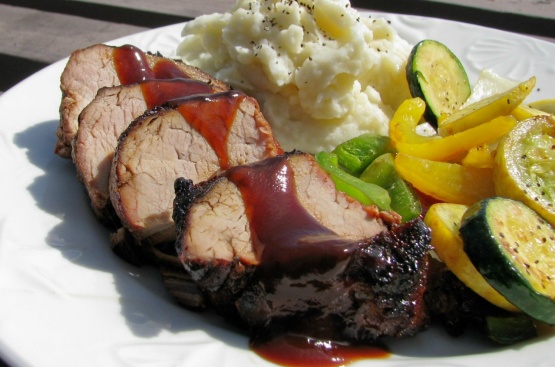 This is out of my Weight Watchers cookbook called "Best of Weight Watchers Magazine" DH rated this excellent the last time I prepared it. It has 4 points per serving. (3oz meat with 2 tbls sauce) Use any leftovers for pulled pork sandwiches. Just thinly slice or chop the pork and combine with the leftover sauce in a small saucepan. Cook over low heat, stirring often, just until the meat is hot, and serve on soft sandwich rolls with sweet gherkin pickles on the side. This rub works great on chicken, beef and catfish.

"...nom-nom-nom..." Sorry, still eating. You know, normally I shy away from any recipe that has WW or X number of "points" in the title, but your photograph forced me to reconsider and YOWZA, am I glad I did! This is outstanding and SO easy, it'll no doubt get put on heavy rotation around here. I even used the full amount of cayenne recommended, something I'd normally never do, being orally wimpy, but it wasn't too hot for us; just a nice little kick that, combined with the mop sauce, took it over the top. Just to be certain that I was, indeed, fully enjoying myself, I pushed the tablecloth aside and checked my toes. Yep! Curled! *lol* (This is a good sign.) Can't wait to use the leftovers, which I'm thankful to have, given that we "made piggy on this dish" in a huge way. Thank you, Teresa, for posting a total winner!
Spray the grill rack with nonstick spray; prepare the grill for indirect heating.
To prepare the spice rub, combine the brown sugar, paprika, chili powder, cumin, salt, cayenne,and pepper in bowl.
Rub half of the mixture all over the pork and let stand 15 minutes.
Meanwhile, to prepare the Mop Sauce, combine the ketchup, vinegar, molasses, and Worcestershire sauce in a bowl.
Rub the pork with the remaining spice rub.
Place over the indirect heat section of the grill.
Grill 15 minutes.
Turn the pork and grill until an instant-read thermometer inserted into the center of the meat registers 160 degrees F, 12-15 minutes longer.
Remove from the grill, cover loosely with foil, and let stand 10 minutes before slicing,.
Server with the Mop Sauce.