Ww German-Style Potato Salad
teresas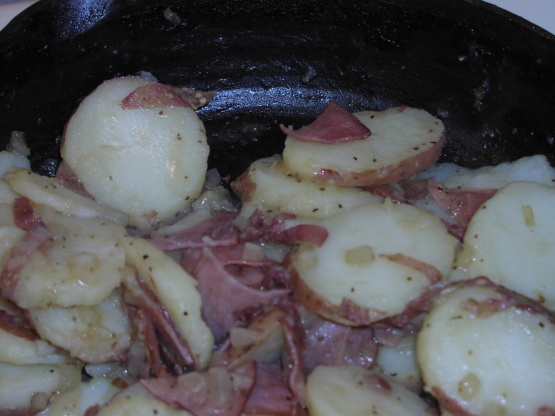 From the WW site.It says it's 2 points."Potato salad can mean so much more than just relish and mayonnaise. This German classic is bursting with flavor thanks to Canadian bacon, dry mustard, cider vinegar and egg."

Excellent potato salad!! This is real close to the recipe I normally use. Mine is served cold with a lot of oil in it. DH who is German was really impressed with this dish. I did omit the egg and parsley, didn't think it was needed. I also use flour in place of the arrowroot (didn't have). This a keeper. Great! WW dish. Thanks queenkungfu for posting.
Place potatoes in a large saucepan; add enough water to cover potatoes.
Bring to a boil; reduce heat and simmer, covered, until tender, about 15 minutes.
Drain potatoes and allow to cool. Cut potatoes into 1/4-inch-thick slices; set aside.
Meanwhile, cook bacon in a large skillet over medium heat until slightly brown, about 5 minutes. Remove from skillet; set aside.
Add oil to pan and cook over medium heat until sizzling.
Add onion and cook until tender, about 5 minutes.
Stir in arrowroot, Splenda, salt, celery seed, dry mustard and pepper; cook about 1 minute. Add water and vinegar; stir and cook until thick and bubbly, about 1 minute.
Stir in potatoes and bacon; toss to mix.
Cook, stirring gently, until mixture is heated through, about 1 to 2 minutes more.
Transfer to a serving bowl and garnish with egg and parsley.
Yields about 1/2 cup per serving.