NELady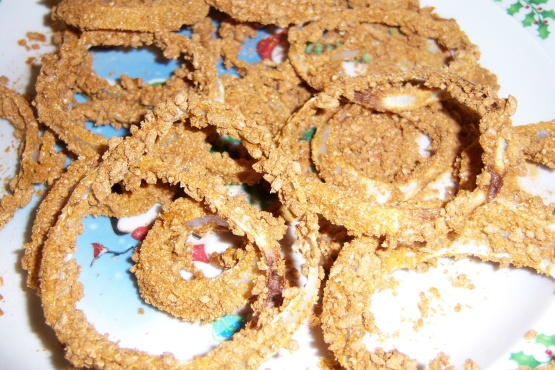 This recipe serves 1 and is only 2 WW points! I can't wait to try this. I got this off the Hungry Girl website, which is awesome and I'm so glad I found it.

I love these onion rings! This is the only recipe I use when making homemade rings. I mix seasoned salt and pepper into the Fiber One before breading.
Preheat oven to 375 degrees.
Cut edges off onion, and remove outer layer. Cut onion into 1/2 inch wide slices, and separate into rings. Next, fill a small bowl (just large enough for onion rings to fit in) with Egg Beaters.
Using a blender or food processor, grind Fiber One cereal to a breadcrumb-like consistency. Pour crumbs onto a small dish.
One by one, coat each ring in egg and then crumbs (give each ring a shake after the egg bath). Place on an oven-safe baking dish sprayed with nonstick spray. Cook for 20-25 minutes, flipping rings over about halfway through.
**Although you'll only actually use a quarter cup, it may be easier to dunk the rings if you dole out a bit more Egg Beaters while preparing.