Annacia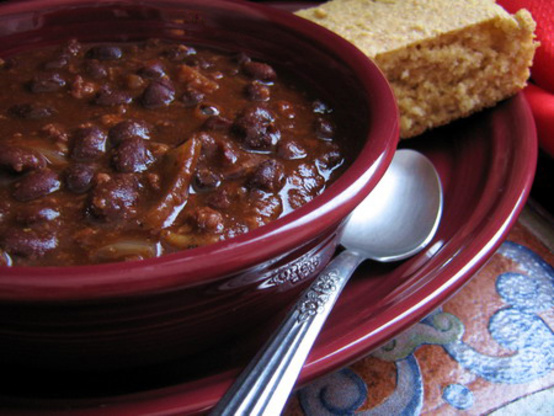 We enjoyed this super fast and easy chili, however I made this on a day when I just wanted to use what I had in the house, so made some changes to the recipe. For example, the original recipe called for 1 can (15 oz) red kidney beans - as I didn't have any I used some frozen corn in its place and for the 1 can of black beans I used 1 can of scarlet runner beans which looked more like black kidney beans. Very good chili which although different with my changes was enjoyed by all. This is a very mild chili--but the chili powder can be increased substancialy for a bit more heat. If following the WW flex plan this is 5 points/serving (1 cup with 2 tablespoons fat-free sour cream)! Recipe source: WW magazine
In a large pot or dutch oven heat oil over medium high heat.
Add beef and cook until browned (3-5 minutes).
Add onion, garlic, bell pepper, chili powder and cumin; cook until vegetables are soft (3-5 minutes).
Stir in tomatoes and beans (see my changes in the description), and salt. Bring to a boil. Reduce heat and simmer until chili is thickened (15-20 minutes).
Serve topped with sour cream and scallions, if desired.