Lalaloula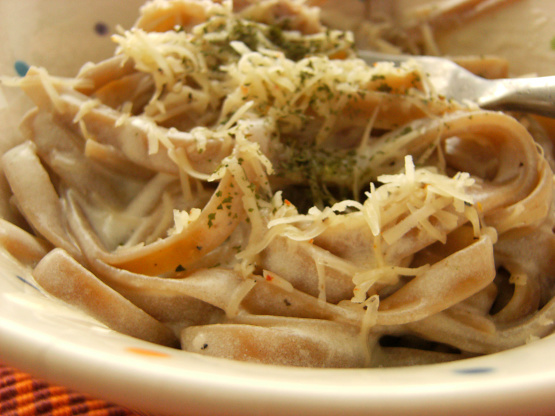 This is an outstanding dish. I always add some shrimp and mushrooms to the dish. I know the shimp adds more points but it is so worth it. Without the shrimp and mushrooms you get 7 points per serving. Serving size is 1 cup. Serve piping hot while it's creamiest. Happy eating.

I LOVE this recipe. It's the best fettuccine I've ever had! I lightened it even more by skipping the butter and using a tiny bit of olive oil, using reduced fat parm (from the can), whole wheat flour and whole wheat pasta. I also toss in some grated chicken bouillion and powdered onion, and I cut up roasted chicken to toss in as well. I counted 4 points per cup and for taste this good, you can't beat that.
Melt butter in a saucepan over medium heat. (this is where I would add the shrimp).
Add garlic; saute' 1 minute.
Stir in flour.
Gradually add milk stirring with a whisk until blended. (I would add mushrooms here).
Cook 8 minutes or until thick and bubbly, stirring constantly.
Add cream cheese, cook 2 minutes, stirring constantly.
Add 1 cup Parmesan cheese, stirring constantly until cheese melts.
Pour over fettuccine; toss well to coat.
Sprinkle with remaining 1/4 cup Parmesan cheese, parsley, and pepper.
Serve immediately.