Ww Easy Barbecued Chicken
Swirling F.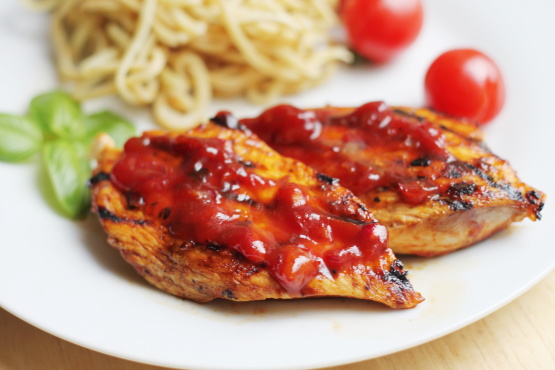 This is another great recipe out of a WW Cookbook called "Simple & Classic Homecooking". Dated 2000. It has 4 WW points.

Loved this sweet/tangy bbq sauce and the extra sauce on the side. I used chicken thigh/leg portions as we prefer dark meat (even though I know the white meat is a better choice with re: to calories). The end result was a really delicious bbq chicken. Will definitely make this again. : )
Combine first 7 ingredients in a small saucepan; bring to a boil.
Reduce heat, and simmer, uncovered, 5 minutes.
Set aside 1/2 cup sauce; keep warm.
Coat grill rack with cooking spray; place on grill over medium-hot coals (350 to 400 degrees).
Place chicken, bone side up, on rack; grill, covered, 8 minutes on each side or until done, turning once and basting with remaining barbecue sauce.
Serve with reserved 1/2 cup barbecue sauce.