Ww Easy Barbecued Chicken
Prep 10 mins
Cook 20 mins

This is another great recipe out of a WW Cookbook called "Simple & Classic Homecooking". Dated 2000. It has 4 WW points.
Directions
Combine first 7 ingredients in a small saucepan; bring to a boil.
Reduce heat, and simmer, uncovered, 5 minutes.
Set aside 1/2 cup sauce; keep warm.
Coat grill rack with cooking spray; place on grill over medium-hot coals (350 to 400 degrees).
Place chicken, bone side up, on rack; grill, covered, 8 minutes on each side or until done, turning once and basting with remaining barbecue sauce.
Serve with reserved 1/2 cup barbecue sauce.
Reviews
Most Helpful
Loved this sweet/tangy bbq sauce and the extra sauce on the side. I used chicken thigh/leg portions as we prefer dark meat (even though I know the white meat is a better choice with re: to calories). The end result was a really delicious bbq chicken. Will definitely make this again. : )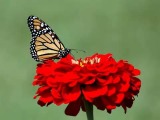 This made a nice BBQ chicken. I don't have a grill so I browned it on both sides in a skillet and then finished it in a 350 oven, covered, for about 50 minutes. I used the apricot jam and had 3 breasts and 5 legs.......my only complaint is that the reserved sauce had too strong a flavor of worcestershire sauce (we're not big fans of it.) Made for Please Review My Recipe cooking tag game.
This was okay for us; we prefer a swett sauce as opposed to tangy. I made with thigh/leg quarters since that was what I had. I made the mistake of not removing the skin so it burned (hence the black!) The chicken was tender and juice but we felt the sauce was missing something. (I understand it being WW the addition of sugar will change the points). Made for "When Its Hot" July Tag 2010.
Summer Central