Ww Dijon Chicken Fettuccine
eabeler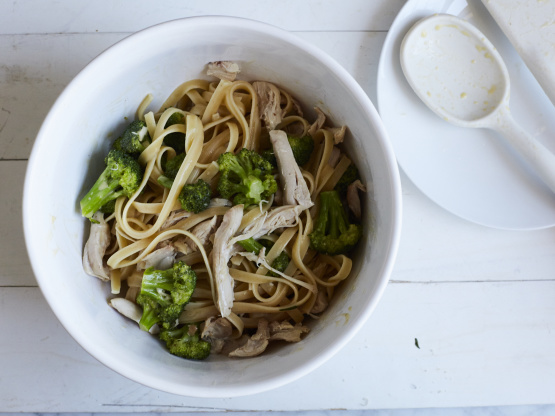 This is out of a 1999 WW Cookbook called "Quick Cooking for Busy People" DH has always rated all my cooking, and this is the 1st excellent rating on a chicken dish. Bless his heart, he asked what kind of meat is this?? Of course, after he said "this is excellent!" Oh! he hates chicken. There's only 3 WW Points in this dish, really hard to believe isn't it?

So very easy and so very tasty: a great healthy one dish meal which is ideal for busy week nights! Loved the inclusion of the broccoli and throwing it in with the pasta towards the end of the cooking time made including it so easy! In making the dressing, I increased the garlic (which we love; I used 4 cloves) and halved the mustard (personal taste preferences). Otherwise made exactly to the recipe. We enjoyed this for a leisurely weekend lunch and what we didn't eat has been put in the freezer as from experience this is the sort of dish that freezes extremely well. Thanks for sharing this recipe for a dish that doesn't in the least seem like a low-fat meal, Teresa! Much appreciated! :) Made for Gimme 5.
Cut pasta in half before cooking.
Cook pasta according to package directions, omitting salt and fat.
Add broccoli to pasta during last 3 minutes of cooking time.
Drain well; place in large bowl.
While pasta cooks, combine dressing and next 4 ingredients; stir well.
Pour dressing mixture over pasta mixture.
Add chicken, and toss gently.
Sprinkle with pepper.