Shuzbud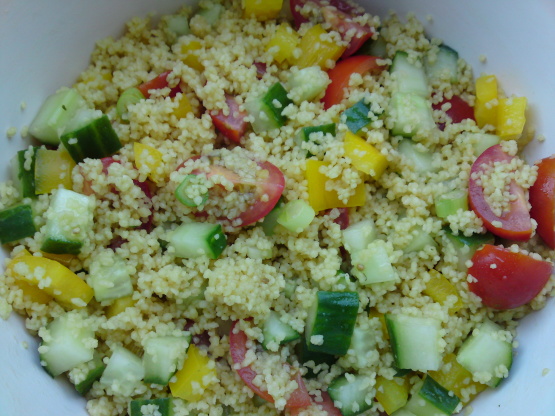 This is a filling, low points salad. If you really want to make it lower points, cut the amount of couscous you use (my usual couscous is 9 points per cup). I actually use 1/3 cup couscous for 3 points and leave out the olive oil from the dressing to make it really lean. As written, this recipe provides a total of 12 points but using 1/3 cup couscous and no olive oil gives 3 points only. Serves 2 as a lunch or up to 4 as a side dish. Cook time includes half an hour for the salad to chill in the refrigerator. This is easy to increase for large groups or take-to-work lunches.

Wanted to keep this a veggie dish so used some homemade vegetable stock & it worked just fine! Seasoned the dressing with a bit of lemon pepper & we had a winning dish! Thanks for sharing the recipe! [Made & reviewed in Everyday's a Holiday tag]
Heat the broth to boiling, or crumble a stock cube into 3/4 cup boiling water and stir until dissolved.
Add the couscous to the hot broth, cover and leave to "cook"- about 5 minutes. Then allow to cool while chopping the salad veggies.
Quarter the cherry tomatoes and finely dice the cucumber, bell pepper and spring onions/ scallions.
Make the dressing- pour into a small jug or bowl the olive oil and red wine vinegar. Season to taste with salt and pepper and whisk until the two liquids are completely blended together.
Fluff the couscous with a fork.
Add the salad veggies to the couscous and stir.
Drizzle the dressing over and stir to mix.
Cover and place in the fridge for 30 minutes to chill and for the flavours to blend.
Serve and enjoy!