teresas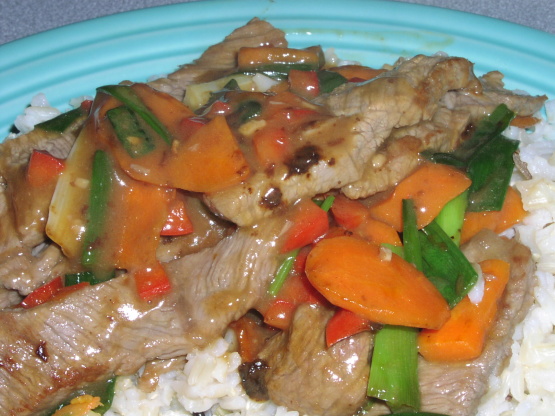 Weight Watcher Core Plan recipe. Serves 4, 1.25 points per serving. Great when served over brown rice.

Agree with past reviewers: delicious! (Even if I did forget the sweetener!) This recipe is a keeper!
In a medium bowl, mix together 1 tablespoon soy sauce, 1 tablespoon cornstarch, and minced garlic.
Stir in beef strips.
Let stand for at least 10 minutes.
In a separate small bowl, mix together water, soy sauce, 2 1/2 teaspoons cornstarch, splenda, and red pepper; set aside.
Heat 1 tablespoon of olive oil in a skillet over high heat.
Cook and stir beef in hot olive oil for 1 minute; remove, and set aside.
Heat remaining tablespoon of olive oil in the same pan.
Saute carrots and white part of green onions for 2 minutes.
Stir in green portion of the onion, and saute for 1 minute.
Stir in sauce mixture and beef.
Cook and stir until sauce boils and thickens.